It's amazing how long some of us will stick with a familiar, manual process.
I've been guilty of it in the past and probably still am today.
For example, I used to manually update Twitter every hour or so during the day. If only I knew then what I know now.
No matter what kind of online marketing effort you need to get done, there is likely a tool and process that will help you to get more done.
From all-in-one systems to specialty management applications, mixing and matching the right toolset can help you to achieve desired results more efficiently.
Consider adding the following tools to your online marketing arsenal. They will serve to make your campaigns more manageable.
1. Buffer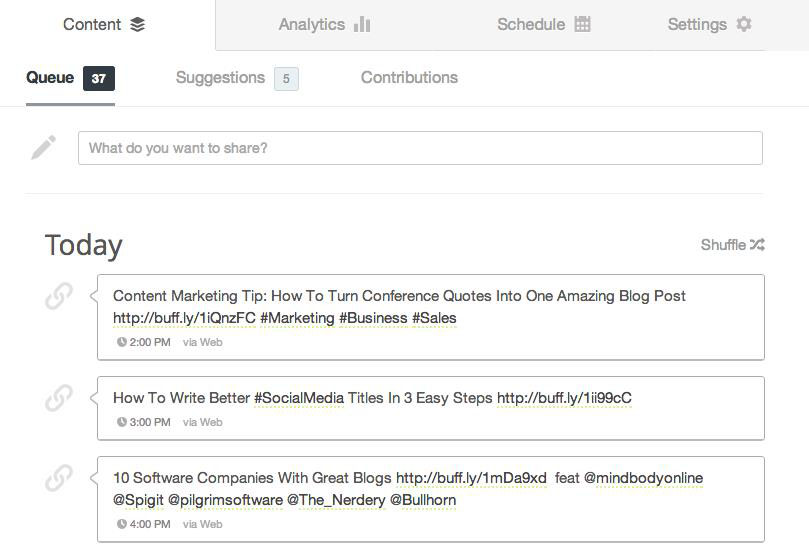 Buffer allows you to keep your social streams queued up with regular updates. If you want to make sure that you are engaging your social followers on an ongoing basis, this tool will help you to make that happen.
With Buffer, you can connect your Twitter, Facebook, LinkedIn, App.net and Google+ (Pages only) accounts. Then, you can add posts to your queue by manually entering interesting content that you've found on the internet, or by using some of Buffer's daily content suggestions (for when you simply don't have time to go looking for more).
Your posts will automatically be sent out at optimal engagement times. You can shuffle the posts to randomize the order in which they are sent out, and you can also configure the number of posts you want to be sent out in a single day.
Though the free version of Buffer is powerful all on its own, there is a limit to the number of posts you can have queued up at any time. If you want to spend less time topping it up, you may want to consider one of their paid programs.
2. HootSuite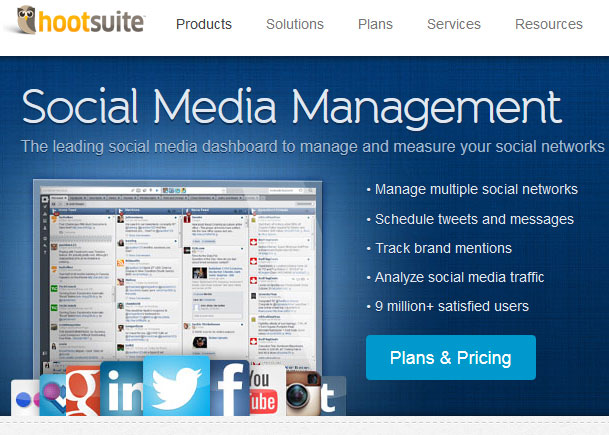 Not unlike Buffer, HootSuite is a multi-functioned social media management platform. You can use it to schedule messages for your social streams and configure them to go out when you want them to.
In addition, you can also view your social streams, respond to messages, and manage your accounts directly from your HootSuite dashboard. You can also connect RSS feeds to your accounts so that whenever a new item appears in that feed, it will automatically be shared with your followers.
By default, you can connect to your Twitter, Facebook, Google+, LinkedIn, foursquare and WordPress accounts. However, there are also a variety of app plugins that you can use to connect with other popular social networks and tools.
With the free version of HootSuite, you can only connect up to five social accounts. If you want to diversify your strategy, you may want to upgrade.
3. Blog Topic Generator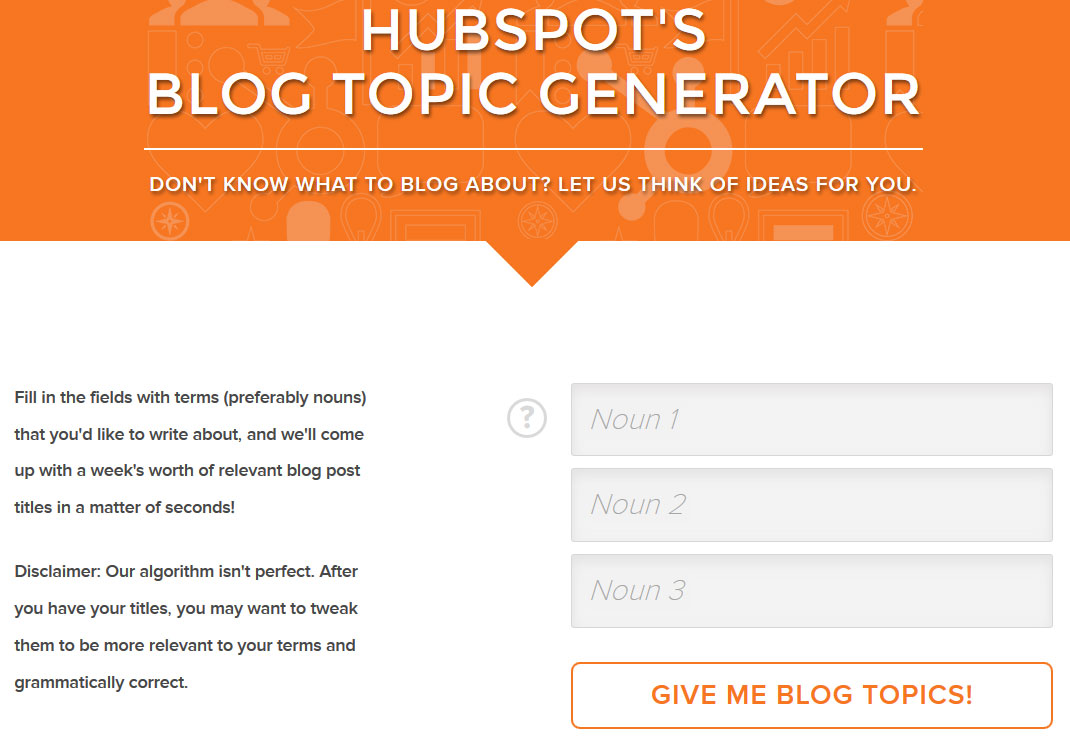 HubSpot has a blog topic generator that allows the user to enter up to three keywords to generate engaging blog post titles. For content writers that are running low on ideas, this tool could end up saving a lot of creative energies and brainstorming time.
The post generator isn't perfect by any means, as it will sometimes give you grammatically confusing results or topics that may be irrelevant to your industry. However, with a bit of tweaking, you can likely come up with interesting post ideas that you can add to your editorial calendar.
This tool can also help you to narrow down and focus in on your main keywords. As a content writer, it's always a good idea to build more content around your target terms.
4. Readability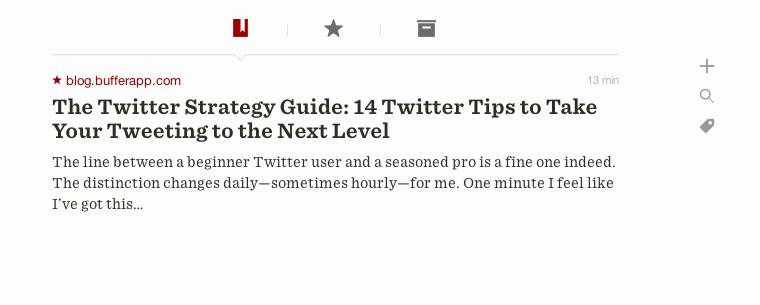 Readability takes the blog posts and articles you store in your account and saves them to your device. This allows you to read the content on your mobile device later without an internet connection.
For busy marketers that need to stay on top of industry news, or social media mavens that are always curating interesting content to share, this is a worthwhile tool.
Like several other tools on this list, Readability can be connected or hacked together with other services to create interesting results. See #10 for some examples.
5. SEMRush

SEMRush has turned into a powerhouse of data and research for online marketers. You can use the service to see your competitors' organic search rankings. You can do advertising research and look for longtail keywords to target with your content.
Creating your own content and advertising ideas is great, but you can build on the successes of others by seeing what works for your competition and improving on it.
For important keywords, find what content your competitors have used to rank well and create something similar, but better.
Do the same thing with ad copy and ad landing pages.
SEMRush gives you the ability to easily find competitive information so you don't have to do it manually.
6. Sprout Social
Sprout Social is a social media management tool that allows you to monitor social engagement in a single inbox, schedule and post messages to your social networks, view analytics, collaborate with your team, turn messages into support tickets, and more.
If you are looking for an all-in-one social media platform, this may be a solution worth considering.
Sprout Social has three different plans that you can purchase depending on your needs, but they also offer free trials.
7. Followerwonk
Followerwonk allows you to find influencers on Twitter while also allowing you to find the type of content that the most popular people share.
Something the best online marketers do is get influential people with big followings to share their content. To do this you could manually go profile to profile searching for these influential people or you could use Followerwonk to see people in your industry that are killing it with their accounts.
The first step is finding them. Look for people with at least 1,000 and more likely 5,000+ followers in your industry.
Next, see what kind of content they're sharing. Once you get a feel for this you can create that same type of content, only better.
After that, mention the influencer in your content. Link to one of their posts or mention their service. Then publish your article and mention the influencer when you share the post on Twitter (you can do this with Buffer).
The influencer will see the mention and they might re-share your post.
And it all starts with using Followerwonk to save time finding influencers.
8. StumbleUpon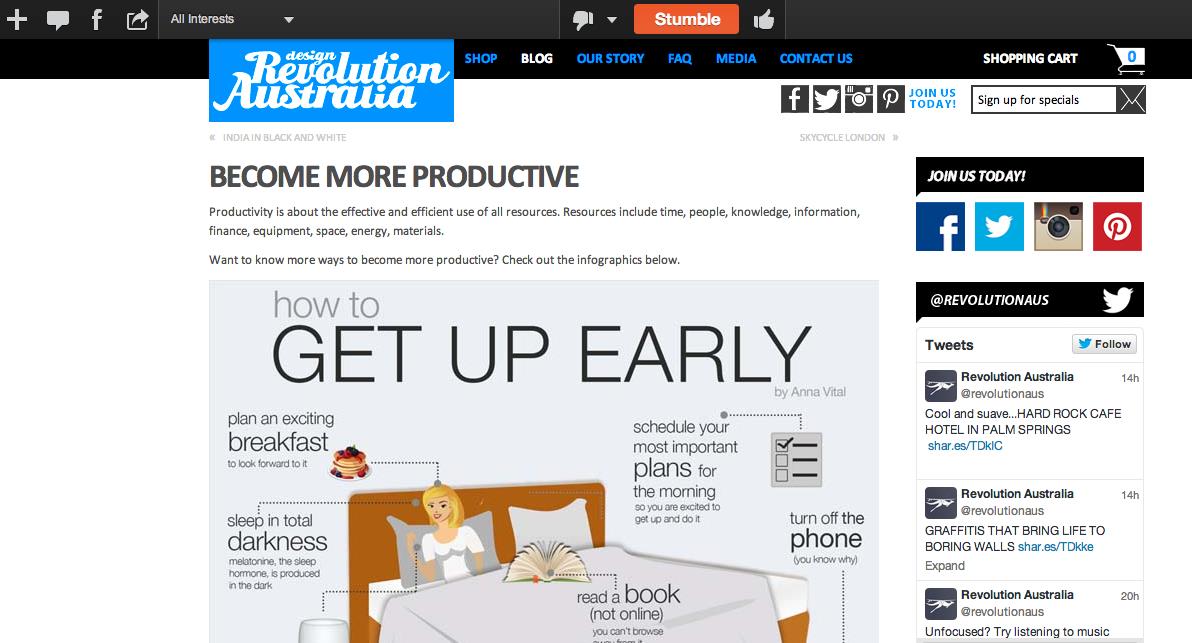 Do you find yourself spending a lot of time looking for great content to share on your social profiles?
StumbleUpon is a 'discovery engine' that allows you to rapidly jump from one interesting piece of content to another. Not only that, but you can browse by specific categories like Animation, Arts, Computer Science, Fine Arts, Graphic Design, Multimedia, Photography, Programming and much more.
Not only will StumbleUpon make content discovery a more streamlined activity, it is also a powerful social bookmarking tool that drives loads of referral traffic to submissions. Therefore, it may be worth using it as part of your content marketing plan too.
9. Portent's Content Idea Generator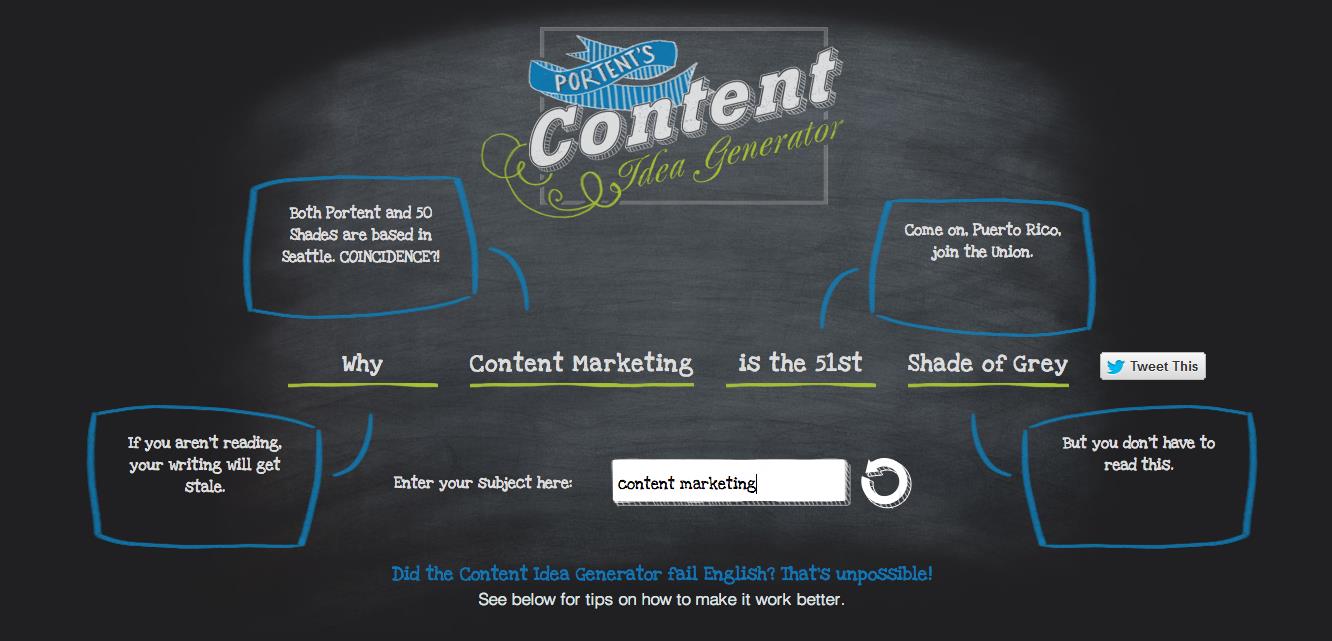 Like the HubSpot Idea Generator above, Portent's Content Idea Generator will give you great title suggestions for your general content topic ideas.
You type in general topics that you want to cover with a blog post, guide or video. Portent will give you a snappy title that is sure to attract your target audience on social media, search or wherever they see the title and link.
If you don't like the first suggestions, hit refresh and you'll get another.
After publishing content based on these titles you'll see what titles work best for your audience and you can build on those formulas to create titles aimed at piquing the interest of your target customer.
10. IFTTT

IFTTT is a powerful tool that allows you to connect different apps, websites and social networks in a variety of interesting ways.
Using IFTTT, users can create customised "recipes" that follow a simple predetermined format: if this then that.
For example, you could have any new photos you post to Instagram automatically backed up on your Dropbox account. Many IFTTT users have shared their own recipes that you can view and use to get a sense of what is possible with this platform.
11. Topsy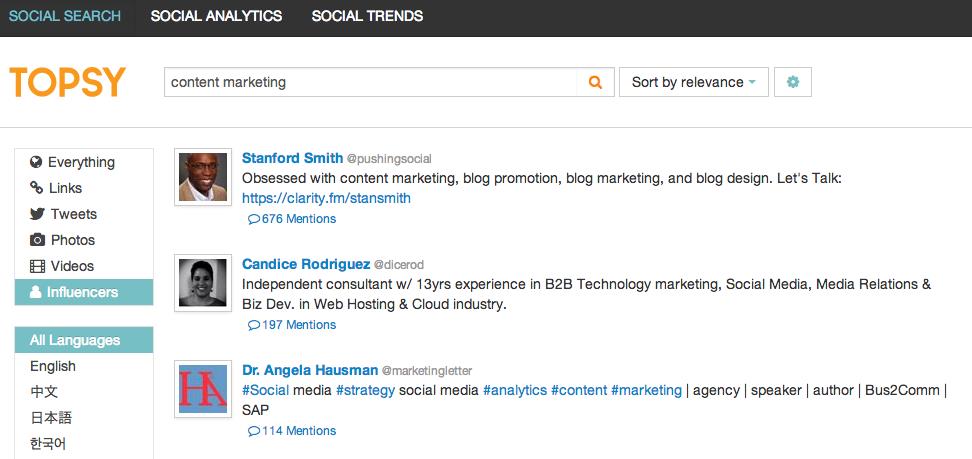 Topsy allows you to search Twitter for all kinds of relevant information.
You can search for influencers in your industry. Once you find them, you can reference their work in your content and reach out to them. Chances are they'll re-share your content to their audience.
You can search for the most-shared content in your industry. Find what's popular with your target audience and work to create the same type of content; only better.
You can even search for media (photos and videos). With visual content becoming more important, you can see what people want and build a strategy around those interests.
12. SocialCrawlytics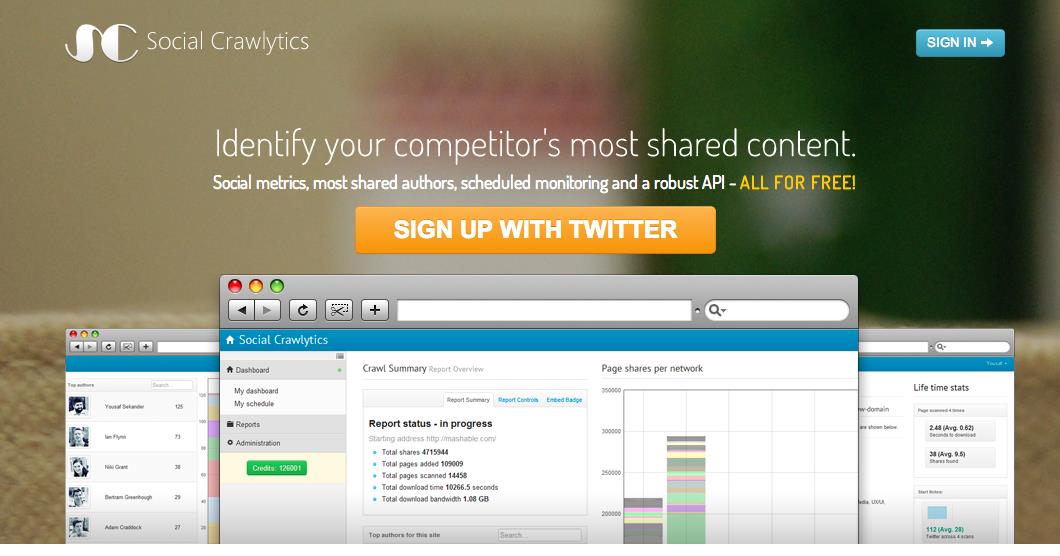 SocialCrawlytics is used by major brands like Adobe, eBay and Microsoft.
Those brands are others are using the tool to find the most-shared content. Why would you want to find the most-shared content?
Because you can see what your target audience is already consuming and use that data to form your own strategy.
It's hard to build a social strategy when you're guessing what your target audience will want. It's much easier to build a strategy based on the topics your audience has already proven to be interested in.
And instead of searching manually for this information you can use SocialCrawlytics.
13. BuzzSumo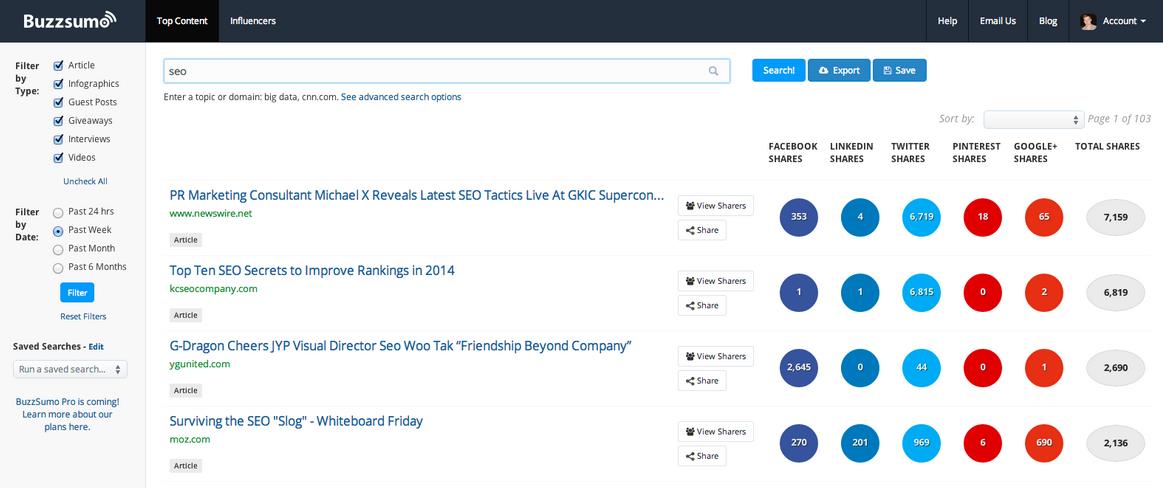 BuzzSumo is similar to a few tools above with a nice interface for gathering information. Use the tool to find popular pages (links) and the influencers that share interesting content.
Look at the most popular and trending articles and topics right now on various channels and in various formats. Once you see what's trending right now you can use that to create the type of content your audience will love.
14. Mention & Google Alerts
Mention and Google Alerts are tools that email you when a certain keyword phrase is found online.
For example, many people create an alert for their name. Anytime their name is mentioned online, Mention or Google Alerts will send them an email with a link to the content.
There are two great posts by Matthew Woodward on using Google Alerts:
The Pirates Guide To Google Alerts
The Ninjas Guide To Google Alerts
In the post, Matthew explains how to setup alerts for your domain so you can see who is linking or mentioning content on your website.
You can also monitor keyword phrases that your target customer would use. When you see a particular question being asked often you can create content around that idea.
15. BuzzBundle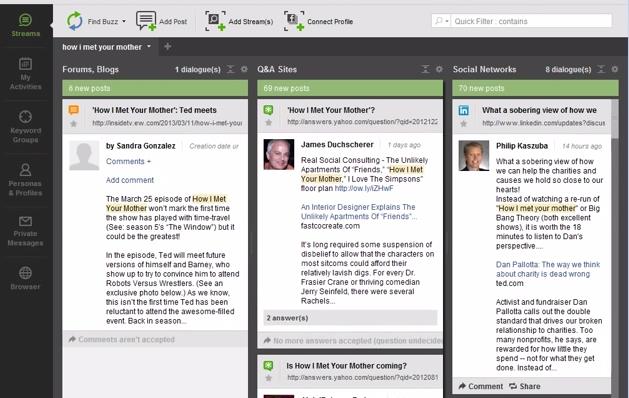 BuzzBundle lets you manage your entire social media program from one dashboard.
You can see what others are saying about you on social media, but even better than that – you can track trending content for your target keywords.
You'll see streams of content on social sites, forums, blogs and other sites. You'll see the popular content in your industry allowing you to use that information to build amazing content that you know your audience will love.
How did we do on these tools?
If we missed your favorite please share it in the comments!