Constant connectivity and the accessibility of information online has empowered consumers and turned marketing on its head. As organisations are striving to become consumer centric in their marketing initiatives and digital platforms, many lose sight of the bigger picture, instead getting caught up in the details of personas, consumer journeys, content and data.
Digital marketing is often one of the first areas of an organisation to embrace customer-centricity. But digital is also often inextricably linked to core business operations and processes. Here are four essential things to consider ensuring your digital experiences consider the bigger picture:
Becoming customer-centric is an enterprise wide cultural transformation
You can't go from being a product driven business to a customer-centric focused business without helping your employees understand more about their customers, and the intended experience they are supposed to deliver. It takes more than sharing a vision. It's about embedding a customer-centric philosophy throughout the organisation and appreciating how everyone plays a role in delivering the customer experience.
Establish omnichannel success metrics
Organisations can't become effectively customer-centric if they are still measuring success in terms of channel and product. Break down internal silos and remove channel conflicts to customer service and sales targets. Customers evaluate their experience with a brand as a whole, they don't differentiate between in-store, online and call centre so you need measures that are channel agnostic too.
Understand the context of your product in consumer's lives
Organisations who are truly customer-centric develop products for their customers, rather than finding customers for their products. If your organisation isn't quite there yet, start by looking from the outside in. Understand the role your product plays in customer's lives. Look at the context beyond just the point at which the customer interacts with your organisation or brand. Don't overlook emotional and cultural considerations. Solve customer problems not business issues.
Humanise the digital experience
A push towards scalable one-to-one marketing comes with the risk of becoming overly focused on ROI, with every click and impression accounted for. Organisations need to remember that in order to forge more meaningful connections with their audiences, they need to be more human, and mimic a human relationship as close as possible. This is more than an expression of the brand personality and values in social media. It's about applying your understanding of your audience, identifying where they are in their journey and providing them with useful content rather than always pushing for the sale.
Westpac Bank applies these principles well in the model shown below.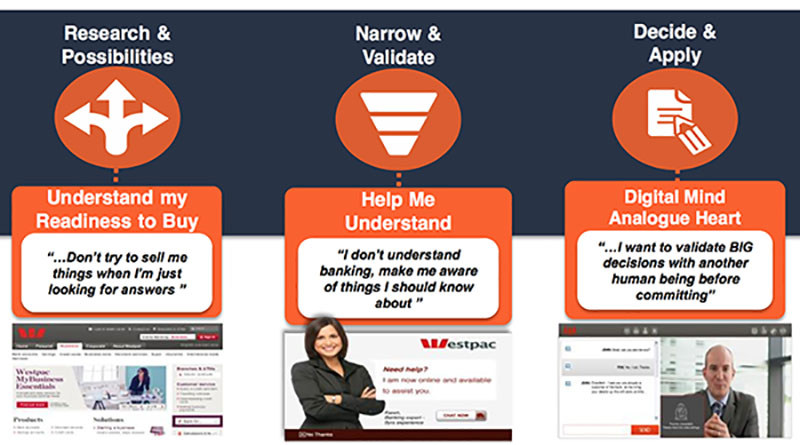 Image source: Angelo Demasi, Head of Strategy and Planning, Australian Financial Services, Westpac Group as presented at the Forrester's Summit For Marketing & Strategy Professionals: Australia
Conclusion
Truly customer-centric organisations have moved beyond lip service and embarked on full-scale transformation of their operating model and made dramatic internal organisational changes. While it can seem daunting to embark on what may seem a complex and long journey, there is the significant upside of increased customer satisfaction, loyalty and the opportunity for increased organisational profit. Don't let the bigger picture scare you off making a start on making your digital customer experiences more consumer centric.
Jacki James is Strategic Planner at Zuni.