Branded content has become big business in the world of marketing. Many advertisers are now creating sponsored or paid partnerships with digital publishers, in the form of written articles, video and podcasts, similar to regular editorial content.
In Australia, the IAB Online Advertising Expenditure Report, prepared by PwC, found that infeed/native/content contributed almost $1.2 billion in ad spend for FY2019, making up a third (35%) of the general display market. Further growth is expected, with a survey conducted in 2019 by the World Media Group finding that 78% of respondents believed that content-driven marketing would grow over the next two years.
Branded content has some key benefits over other forms of digital advertising. A recent report from We Are Social claimed that half of internet users are using ad blockers, yet branded content is typically immune to such technology and other forms of ad avoidance (like ad skipping). But how else is branded content different, and is it more effective than other forms of digital marketing?
The Marketing Scientist Group has produced a number of independent studies looking at the effectiveness of branded content, and we presented some of our key findings at the 2019 International Publishing & Data Conference in Lisbon. The main study in that presentation involved a series of experiments looking at various branded content and advertising formats for a range of brands amongst a sample of more than 1,500 Australians aged 14 to 54.
Branded content is liked as much as regular content
It is often assumed that branded content is inferior to regular content. A study published in the Journal of Advertising Research highlighted the importance of the editorial quality when planning and designing branded content campaigns.
We used measures of likeability to evaluate branded/native content compared to regular content in the form of written articles, videos, and social posts. The results showed very similar liking scores for branded content versus regular content, on average, for all three formats. In fact, we found that the branded video content was 10% higher in liking compared to the regular content (n.b. we are not suggesting this is always true – we probably just got lucky in our branded video content selections!)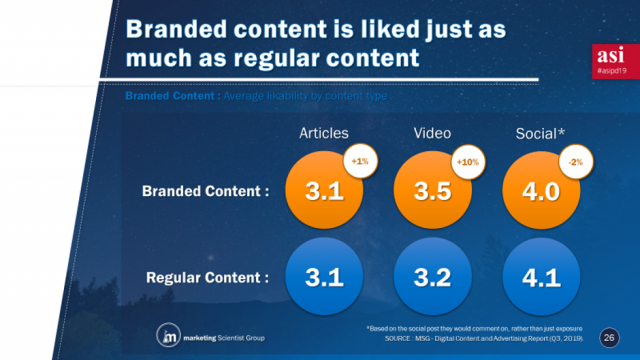 ​People like branded content for the same reasons they like ads
We also asked people to describe why they liked the content. Even though they had similar scores for likeability, the reasons why participants liked branded content were different from the reasons they liked regular content. That is, for regular content the most common reason for liking was because it was "Entertaining and Interesting", while for branded content the top reason was "Informative".
Interestingly, we found that branded video content liking was more similar to the reasons for liking pre-roll video ads – with "Informative" and "People and Products" featuring in the top 3 reasons for both formats.
Branded content and ads work better together
Since the reasons are similar for why people like branded video content and pre-roll video, we then wanted to understand whether one format was better at driving brand impact using standard measures of performance.
In the same study, we constructed an experiment where some participants were exposed to pre-roll video ads only (6, 15 and 30 secs in length), some were exposed to branded video content only (approx. 2 mins in length) and some were exposed to both.
The average recall results showed that the branded video outperformed the pre-roll ads (in part, due to the increased length of the content), but that the recall results were highest when participants were exposed to both ads and branded content together.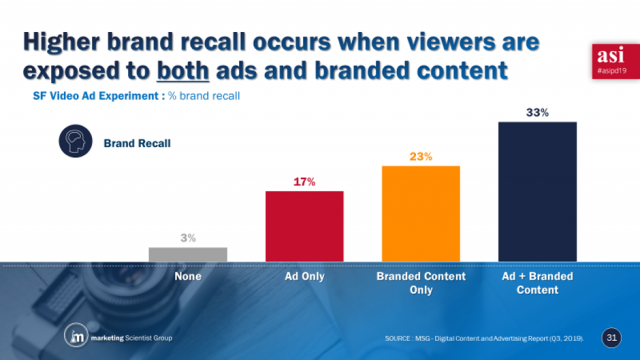 ​What this means for brands and advertisers?
These results provide two key insights for brands and advertisers :
1. Consumers liked branded content as much as the regular content we tested : Brands should strive to make high-quality content, comparable to the publisher's regular (editorial/organic) content. While there's no indication that including branding in the content detracts from the experience, in the examples we tested, this doesn't mean it should be a blatant sell!
2. Branded content and advertising work better when used together : This finding highlights the additional benefits of pairing branded content with broader ad campaigns and surfacing them within ad-supported publishing platforms. We also would encourage brands to think about how advertising can be used to achieve broader reach and drive audience to the content, as well as be used to reinforce the key content messages.
More work is needed in this space. We have recently built a standardised measurement tool called contentFX designed to provide on-going analysis on the impact of branded content on key measures of performance. Early results from this tool suggest that the largest uplift in brand metrics was seen for brand favorability. We've also observed that uplifts in purchase intent metrics outperformed awareness uplifts for a small number of B2C short-form branded videos. This highlights the need for more insight, as research published by the Content Marketing Institute suggests that marketers devote half of their content creation efforts (51%) to generate brand awareness/interest.
It is our hope that, through more consistent data collection we can help to understand how branded content works, and ultimately build our knowledge in how it can best be used to grow brands.
This data was originally published in our report "Are new campaign formats from digital publishers effective?". A lite version of the report is available here : https://www.contentfx.net/new-campaign-formats
Peter Hammer is the Managing Director of the Marketing Scientist Group and works with some of the largest media and marketing businesses in Asia Pacific to help them make evidence-based decisions to drive brand growth. He specialises in audience measurement, advertising/content effectiveness and total video research.