If you're reading this, you're probably in the digital advertising industry, which means that you probably attend a lot of events: we're nothing if not a social bunch. In the nearly ten months that I've been with IAB Australia, I've noticed that people tend to ask me the same question at these events: Why is there a lack of skilled digital professionals?
Citing the latest Clarius Skills Indicator, B&T reported on this issue just last week, saying "the Australian economy is still crying out for productive, wealth creating sales and marketing professionals." The article goes on to say that some of this dearth is attributable to the specific lack of digital skills.
It's true. There are not enough people with the adequate skills and competencies to fill the much needed roles within the digital advertising supply chain. From an IAB perspective, this is a two-pronged issue: there are professionals whose skills and knowledge isn't up to par, and it can be difficult to discern between those with qualifications and those without. To address the latter, we've introduced IAB Certification to the Australian market. We are currently offering two professional certifications: Digital Media Sales Certification (DMSC) and Digital Ad Operations Certification (DAOC).
Our Certification Program is a highly regulated examination which measures the skills, knowledge and abilities of sales and operations professionals – in short, being certified is much different than getting a certificate. IAB Certification is a global credential which says that an individual's skills and abilities have been independently assessed based on standardized criteria: in many ways, it's the bar exam of the digital advertising industry.
VP of Learning & Development at the IAB US, Michael Theodore, put it succinctly when he said, "Certification provides a much needed solution to the ongoing talent gap that exists in the market, and there just are never enough qualified, professional and experienced salespeople and ad operations professionals."
I can't overstate how important this is. We are a $17 Billion industry – yet up till now, we haven't adopted a set of benchmarks and standards by which to measure the necessary skills needed to provide the highest quality service in roles critical to our industry. Our industry is so complex, and works with big budgets – we need to make sure the professionals engaged to manage these processes are the cream of the crop.
IAB Certification's been available in the US since 2012 and Canada, Singapore and now Australia have all followed suit. Companies like AOL, Collective, IDG and others now consider IAB Certification standard for their entire sales teams. As an industry, we need this. We need to continue to raise the standards of the digital media landscape across the board – and to do it from within, rather than wait for governments or outside bodies to insist. Not only does IAB Certification help individuals along their career paths and assist companies in hiring, but also raises the perception of our industry as a whole.
Digital advertising has often been described as the "Wild West" – and with issues like ad fraud at the fore, we need to do all we can to hold ourselves to the highest standards at each point in the digital supply chain and to listen to the call by clients and agencies for a way to determine which media sales executives are the most skilled.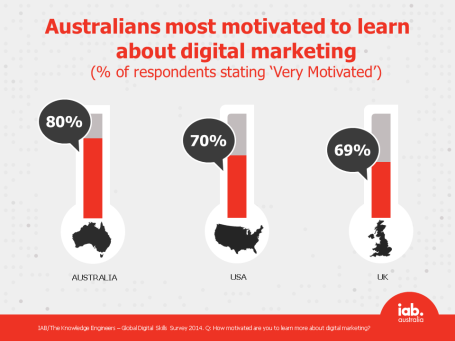 I'm a big fan of recognizing, nurturing and rewarding talent. And while it is true that we need more qualified professionals, I prefer to look at the half-full glass: there is a lot of talent out there; we just need to know how to distinguish them from those who aren't quite there yet. According to our recent Global Digital Knowledge Survey, Australian's are the most motivated to learn about digital marketing, but only 36% reported feeling completely confident delivering digital marketing activity. IAB Training is an effective way to address the issue of confidence, and IAB Certification is a way to recognize and reward the talent that's out there. Together, IAB Education is a one-stop shop for digital go-getters, and a good place to start for the need-to-do-betters.