In October 2014, after a rigorous process, IAB Australia appointed Nielsen as the sole and preferred supplier for the digital measurement currency that is used for the planning, buying and reporting of digital audiences in Australia – extending the existing relationship to 2018.
As part of this deed, Nielsen, in conjunction with the IAB and its Measurement Council, has embarked on a comprehensive upgrade to Australia's digital audience measurement solution. With the launch of Digital Ratings Monthly (DRM) on March 31, for the first time the Australian market have access to measurement of total, unduplicated audiences across personal computers, smartphones and tablet devices for both web browsers and apps.
The Journey
It has been an exciting journey for all involved. Digital Ratings (Monthly) is the second of three key stages in the transition to daily, cross-device audience measurement. Its implementation is the most significant since the launch of Nielsen Online Ratings in 2011.
The Hybrid methodology (panel data and census-tagged data) that underpins Nielsen Online Ratings, at the time, was best in class for measuring audiences from all devices including smartphone, tablet and PC, when the vast majority of consumption was from desktop/laptop PCs.
However, as more and more people started using smartphones and tablets, there was universal recognition across the industry that we needed to specifically measure consumption behaviour from these devices. This involved building a smartphone and tablet panel which formed the basis of Mobile Ratings data launched in the back end of last year.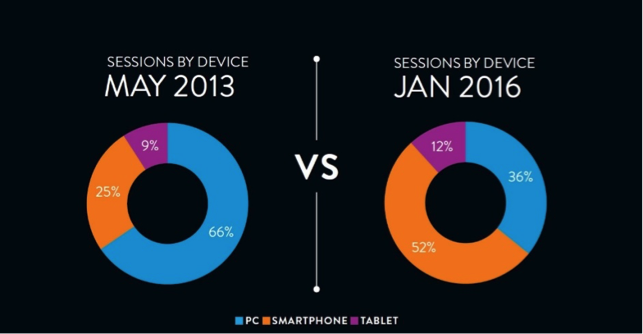 Changing behaviour of the Australian audience over time. (Image courtesy of Nielsen.)
The Mobile Ratings Report provided a first look at results based on the mobile panel which consists of 2,000 iOS and Android smartphone users and 500 iOS and Android tablet users aged 18-plus. This panel is nationally representative of Australian smartphone and tablet internet users, has individual privacy agreements in place with all panellists and passively measures the online behaviour of panellists on their mobile device through an on-device meter (Android) or proxy solution (iOS).
To get to total audience, Nielsen fused their different digital panels together.
Bringing it all together
The next logical step, which brings us to today, was to bring together all the panels (smartphone, tablet and PC) to provide a total unduplicated audience across all these screens – Digital Ratings (Monthly).
To get a total audience as Nielsen does in Digital Ratings (Monthly), all the different panels are fused. The fusion is a statistical process that identifies and matches panelists with similar characteristics across different device panels. These panelists are extrapolated to arrive at a total audience figure (the universe).
The second part of the fusion concerns measuring volumetrics. The volume data from the panels (metrics like sessions, time and page views) is calibrated via scaling it to census volumetrics from tagged data from websites.
The third milestone on the IAB Australia and Nielsen roadmap is Digital Content Ratings which leverages the scale of third-party providers. This will be the holy grail of digital total audience measurement. It will see the Australian market transition to daily delivery of digital audience data, across sites big and small. Key to this is compatibility with third party datasets, which simultaneously allows Nielsen to deal with the convergence and fragmentation of both content and the associated consumer behaviour.
Key benefits to the industry
This Australian audience measurement is a world first for total cross-device audience measurement including census volumetric data. It provides cross-device metrics for unique audiences engaging with key digital devices across sites and mobile applications.
This insight allows publishers to see their audience growth and assess behaviour across devices. It enables brands and agencies to make more informed marketing decisions and better determine the ROI of their digital strategies.