Forrester Consulting* recently surveyed 450+ companies globally to learn how partnerships contribute to business growth and competitive advantage. To define the characteristics of the most successful partnership programs, they created a maturity metric that correlates various program tactics to partnership channel revenue growth.
So what does it mean to have a mature partnership program? Is it just a high volume of or long-standing relationships? A well-oiled partner organisation? Just stood the test of time over several years?
What the researchers discovered is that partnership program maturity is anchored to the four pillars outlined below: people, process, technology, and breadth (in terms of partnership models and number of partners—hint: diversify). These partnership attributes correlate strongly with positive business outcomes.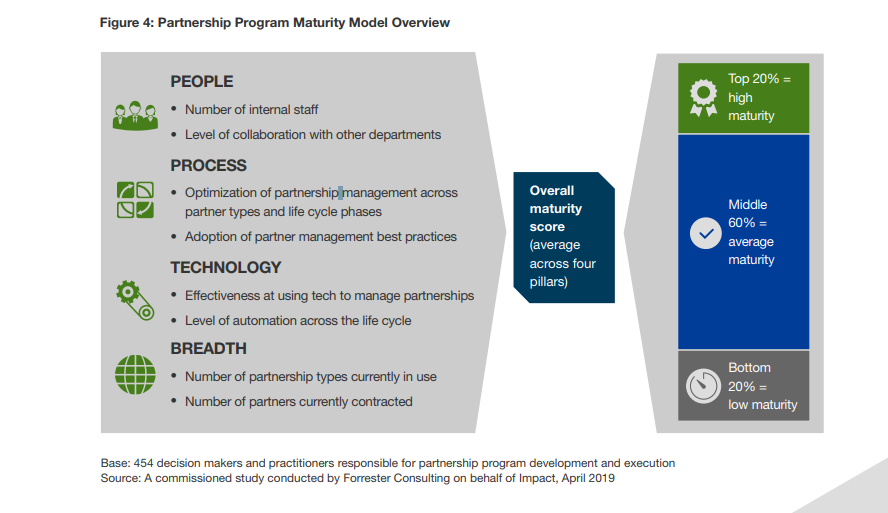 The benefits of maturity
Using the four pillars, the researchers created a scoring framework, and each survey respondent was assigned a final score. What became clear is that the companies with the most mature partnership programs were doing significantly better than the rest of the pack.
The researchers found that companies with high maturity rankings:
● Get more of their overall revenue from partnerships; an average of 28% of overall company revenue vs. 18% for low-maturity companies
● Collect $162M more revenue, on average, from the partnership channel than those with low partnership maturity
● Outpace low-maturity companies by 2.3x (28% versus 12%) in terms of channel revenue growth rates
● Report nearly 2x faster revenue growth at the company level (30% versus 16% to 17%), signaling the importance of partnerships to overall business growth
● Exceed stakeholder expectations not only on revenue growth, but on other key business metrics like stock price, bottom-line profitability, and the growth of their partnership programs
Clearly, partnership program maturity requires investment, commitment, and the right technology, but the research demonstrates how much ROI and revenue there is to gain. For more information on the benefits of mature partnership programs, download the full Forrester report here, or attend one of our panel sessions at Advertising Week APAC where we will discuss some of these points in more detail.
*Invest in Partnerships to Drive Growth and Competitive Advantage, a commissioned study conducted by Forrester Consulting on behalf of Impact Tech, May 2019