The IAB Australia has always been committed to presenting data and insights to help inform and educate our industry on using the right measurement and metrics to assess marketing investments. As part of this commitment, MeasureUp was born in 2017.
MeasureUp will be held again this year on Tuesday 29th October 2019. Again, the IAB's challenge to our conference speakers is to bring data and proof to the table, openly debate the industry hot topics and share their marketing and measurement journeys to reveal the things that have worked and, as importantly, things that haven't worked for them.
As the IAB prepares to bring another amazing line up of local and global speakers to MeasureUp 2019, we have reflected on the themes from MeasureUp 2017 and 2018 to see what's changed and what's stayed the same.
Investment in online advertising has continued to grow
Preparing for MeasureUp this year we face a low growth environment and there is increased pressure to make marketing budgets work harder. More than ever it's important for MeasureUp to continue to surface the most appropriate ways to measure media effectiveness that underpin the confidence for brands to continue to invest in advertising and reap the benefits of future business growth.
"Australian businesses are operating in a challenging low growth environment. Investment in marketing is an essential tool for businesses to grow their available market to achieve growth." Jeremy Thorpe Partner & Chief Economist PwC Australia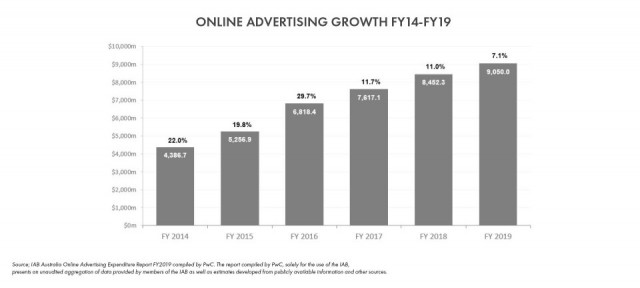 The enduring importance of industry standard currency
At MeasureUp 2017 we demonstrated the best commercial usage of the then newly launched IAB endorsed Nielsen Digital Content Ratings, the first digital daily audience data across all devices for Australia.
The importance of Australia being at the forefront of digital measurement continues to be recognised by the industry. The IAB's Future of Measurement research presented to the industry earlier this year found that amongst agencies and advertisers surveyed, 'IAB endorsed audience measurement' was a top 3 priority for attracting more brand investment into digital media.
One thing that is often missed in debates on media measurement is the importance of providing the market with an accurate macro picture of how people are consuming media. While day-to-day focus is often on the size and composition of an individual media brand's audiences, the importance of the accuracy of the total market picture is often lost. This is why having an industry-driven approach to measuring the market is vital to the industry. It gives media buyers and advertisers confidence in having data on the complete landscape delivered with independence and forming the basis for comparability across media.
A panel of media currency stakeholders for digital, TV and print came to consensus at MeasureUp last year that strong media currency is crucial in order to move forward with collaboration on cross-media audience measurement.
This year at MeasureUp we are looking forward to welcoming two presentations on cross-media audience measurement. Veroen Verspeek, Head of Audience Measurement at BBC UK and Jim Ford, Global Commercial Director at Ipsos UK will share their journey to scale the mountain of cross media measurement and understand audience engagement with content across all platforms and devices, TV, radio and online.

Increased recognition of cross-media brand building for longer-term business viability
At the first MeasureUp conference in 2017 the very engaging Gonzalo Fuentes, Global Media Lead at Kantar presented evidence from thousands of global campaigns on how the digital ecosystem contributes to brand strategy.
In 2018 the conversation evolved to blow up the notion promoted by self-interested parties that purport that one channel is far superior in advertising effectiveness to another. Paul Sinkinson of Analytics Partners contended that the whole digital versus TV discussion is dangerous. It's like asking if you want food or water. You should have both. If you pick one over another then you will destroy your ability to get full value and ROI from your campaign. Sinkinson referenced data from thousands of studies and hundreds of peer reviewed academic papers from around the world making the point that while research confirms that digital can deliver the best ROI for advertisers, it can generate an additional 50% ROI when paired with TV, showing the importance of integration.
At MeasureUp this year Gonzalo from Kantar will be back to present on the importance of building brand equity to ensure longer-term business viability. This year the IAB will launch their own local study conducted by Kantar that demonstrate digital's role in driving strong brands which is critical for long term business growth. The study draws on insights from an aggregated database of 148 Australian cross-media studies and up to 70 digital only studies with comparison to global benchmarks.
With the increased focus on longer-term marketing impact we will also hear from a panel of big brand marketers providing tangible tips on how to make the shift to prioritising and measuring for lifetime value.
Over the MeasureUp years we have also seen demonstration of marketers using more and more sophisticated ways to measure success. This year Optus will demonstrate how their partnership with Marketing Evolution has unlocked unified, person-level marketing measurement to optimise media expenditure on a continuous basis. 7-Eleven will discuss how their brand story was weaved into native content and how an innovative neuroscience study measured the level of emotional connectivity achieved through native advertising.
Increasing regulation for data, consumer privacy and now facing a cookieless future
In 2017 MeasureUp featured a presentation on data handling and what the then upcoming data breach notification laws that came into effect in February 2018 would mean for our businesses.
Focus on data handling and consumer privacy has shifted quite significantly over the last two years. Now the global and local industry is facing a perfect storm of several factors growing and feeding upon each other, including the proliferation of devices, the scale of personal data collection and use (and potential for misuse), consumer expectations and government regulation with regard to privacy, transparency and control along with the blocking of identifiers by browsers and operating systems.
At this year's MeasureUp conference an expert panel of advertisers, publishers, agencies and tech will provide their perspectives on the future of identity and tracking ad activity in a cookieless world.