There are many misconceptions associated with programmatic video buying. Many of these, like the assumption marketplaces drive CPMs down, arise when people fail to distinguish between the very different display and video markets.
Another common misconception is the assumption that programmatic and direct are competing sales techniques. For a long time, programmatic has been framed as an aspiring successor to direct sales. Our experience across the globe, as a platform which ties in programmatic enablement, supply-side server and ad server technology, suggests just the opposite. Programmatic and direct should be seen as partners, not adversaries.
We're already seeing many of our US publishers move past the 'us-versus-them' mentality. A variety of factors are seeing direct sales teams look to programmatic infrastructure to help boost performance. In today's complex media environment, forecasting and prioritization of campaigns has become infinitely more difficult. Advertisers aren't just targeting by audience, but by placement and even consumer contexts, like propensity to buy or involvement with a brand's story. Controls are required around first- and third-party data in order to execute these buys. The need to report in real time, as well as the mandate for data-driven buying, are conspiring to automate the direct sales process.
With so much fragmentation in the market, executing a cohesive ad sales process is challenging. The more sales platforms the publisher operates in, the less transparent their sales efforts are. As automation entered the market, programmatic infrastructure and modern ad servers were bolted on to traditional ad serving systems. As a result, sales processes became cumbersome, operating in multiple, often siloed, systems, across different types of inventory (display versus video) and different channels (desktop, mobile, and soon even linear TV).
SpotX houses both programmatic (private and open marketplace) and direct sold campaigns in a single platform. We give our publishers full transparency into yield optimization across screens, video inventory types and sales techniques. To make the distinction clear between sales channels, the following spells out the difference between open marketplace, private marketplace and "programmatic direct".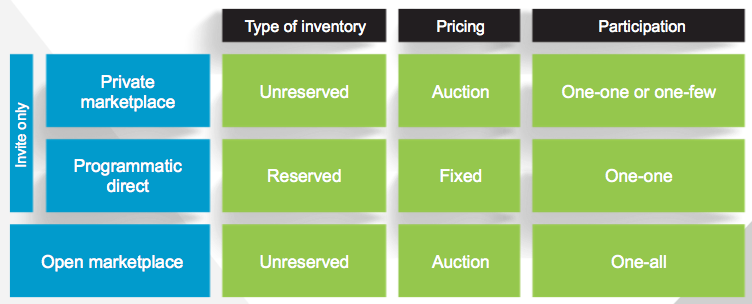 In JAPAC, many publishers sell all or the vast majority of their inventory through direct. In doing so, they're missing out on opportunities to upsell and leverage the advantages of different sales styles. Publishers that continue to sell the majority of their inventory through traditional direct sales, then sell the remaining in programmatic marketplaces at sub-rate card pricing, are missing out on additional value. By utilizing the added optionality, addressability and efficiencies of programmatic, publishers can potentially charge a pricing premium on a much larger chunk of inventory. In some regions around the globe, we're seeing some publishers charge as much as 25% more than rate cards to buy programmatically in a private marketplace.
Additionally, connecting sales techniques gives visibility into the most effective technique across all variables. Take for example the scenario of a broadcaster that is selling inventory across linear TV, and streaming live and on-demand content across multiple desktop, mobile and connected TV devices. It's not uncommon for the number of different distribution platforms to exceed 30 different devices. Connecting the entire sales process for all of this inventory gives the media owner the following advantages:
Targeting – automation and data to target consumers across screens.
Retargeting – track across screens to enable retargeting executions, like serving someone a follow-up ad to their smartphone after they've watched an ad on desktop.
Fulfillment – giving publishers flexibility for fulfilling ad campaigns across inventory types as they fluctuate.
Yield – ensuring that no matter where the consumer watches, they are monetized to their full value.
It's time to move on from the misconceptions that have plagued ad sales automation. When automated trading became widely used on the stock market, the volume and speed of activity exploded. Denying ad sales the same opportunity to evolve denies the potential of automation to revolutionise the video ad market for the better.