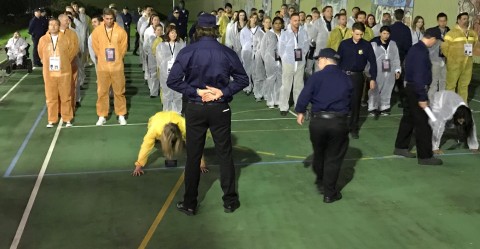 Thanks to Paul, Nina and the Unltd crew for inspiring a group of us to spend a night at a youth detention centre in Paramatta last Friday.
I shared an Uber from sunny Surry Hills with some peers. We shared stories of who might have spent a night in prison during a misspent youth.
Whitelion are a charity that help disadvantaged youth and they run the event. They have a team of actors at the prison and as soon as we got to the prison venue, we were ticked off a list and the role-play started. These actors are dressed and immersed into the roles of prison officers. Within seconds, we are being shouted at by prison officers to drop our bags and stand, staring at walls.
We all got a few minutes locked up in a paddy wagon. Not a good place if you get claustrophobic and an awful place if you have a keen sense of smell. The olfactory remnants of previous prisoners were pretty distinct.
The Whitelion team were set on creating empathy between you and a potential prisoner. The process of being brought into a prison is humiliating, demeaning and yet grounding. We spent what felt like hours being processed and you realise that you are being conditioned at the same time. 
It's an interesting mental process you go through. You know it's a game and you know the prison officers are actors and yet after being shouted at for an hour most people toe the line. I have to say that many of us did a lot of press ups in the first couple of hours. Every time you grinned or laughed at an officer, you were thrown 10 press ups to do.
Whilst the induction into prison was funny you also got a dose of reality. What must it feel like stepping out of a free life into one that is confined both in a physical and psychological sense?
Once we got our fingerprints and photos done we gave up our possessions. The oddest feeling was giving up my iPhone. Can't think of the last time I did that.
The most profound and striking part of the evening was a series of seminars from the Whitelion staff. We had sessions with street workers from the charity who engage kids living rough. Often the kids were from broken homes, some form of physical abuse in the family was common and drug abuse was often part of the set up.
The Whitelion team got us talking about homeless youth and why most of us walk past them most days. We spent time with a lawyer who helped many kids who find themselves in a detention centre.
The data passionate member of our team shared the fact that indigenous Australians make up 3% of the population but more than a quarter of the total number of people incarcerated in Australia. These are striking numbers in any context.
We even experienced a mock court hearing around a real case of partner physical abuse. The role of the prosecutor was played by an actual barrister who helps youth in prison. The opening lines were read by an actor but were from a real person. We heard poetry from a lady who was a sufferer of long-term physical abuse.
The bottom line was that you felt like you lived in a parallel universe. It made you realise your personal privilege. Let's remind ourselves that our industry is important, but we aren't saving peoples' lives. The slap of reality check on Friday night was profound.
We finished the night with a cup of tea and a piece of cake before retiring to our cells. I think many of us were quite drained by the experience. Sleeping in a cell was genuinely the easy part, at least for most of us.
The morning consisted of yard exercises, breakfast and a debrief before we were set free. It's great to raise money for such a good cause, but it's critical for us all to think about the plight of disadvantaged youth. Next time, you see a young person asking you for money in the street will you just walk by as always? Time will tell.
Donations can still be made to the Adland Gang at: http://bit.ly/unltdbailout and here's a link to Whitelion's website: http://www.whitelion.asn.au/ if you want to find out more.