Firefly, a subsidiary of Malaysian Airlines' creates a multi-channel remarketing campaign with the addition of SaleCycle's SMS solution.
The Challenge
Firefly, one of SaleCycle's most innovative clients, set the challenge of delivering a service that could drive more immediacy in conversions. How could they communicate quickly and efficiently with visitors who abandon a flight that was due to depart just days after the customer had initially visited their website? 
Firefly was already asking for a mobile number during the booking process. It was clear that if SaleCycle could expand its solutions to include SMS as a method of remarketing, that this immediacy could be realised. The need from both a product and customer had been established.
The Solution
SaleCycle needed a partner that understood how to integrate with service providers, delivered highly consumable APIs and a team that focused on not just technically enabling SMS as a channel but also enabling and training the other business functions to become SMS experts.
SaleCycle chose Dynmark for the project and to integrate the solution took just four weeks. The great part about working with Dynmark was that part of the scoping process uncovered the fact that they could leverage SMS for many uses that are valued by customers and now SaleCycle has a platform that can sit as a standalone SMS solution or part of a Multi-Channel remarketing solution. 
So how did Firefly find using the new solution? Boon Chuan Teh, Airline Systems Manager says: "The ability to mix SMS remarketing into our existing campaigns has really increased our capacity for reconnecting with potential customers. We have already started to see recoveries and conversions from the SMS tool, and are excited to work on future developments with SaleCycle."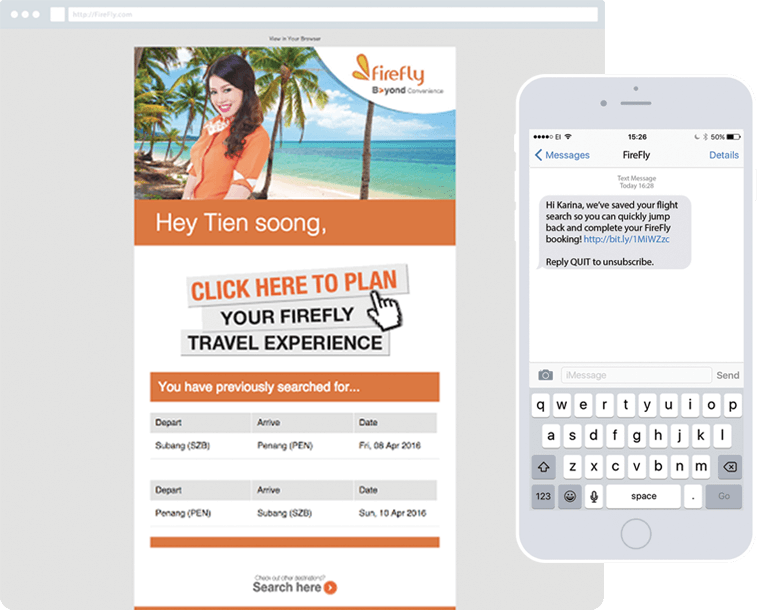 Campaign Results
Immediately after go live, Firefly saw its first recovered sale from only the fourth SMS message sent; the recipient returning to the site and buying the flight they'd left behind. Here's a summary of how it went:
15.5% of people who received the SMS clicked back to their booking
4.45% uplift in sales attributed to the SMS campaign
Award Winning World First Campaign
SaleCycle's SMS Remarketing campaign for Firefly has already won key industry awards including the Mobile Sales Promotion/Lead Generation/Direct Response/Strategy award at the UK's Marketing On Mobile Awards (MOMA Awards 2016) for its world first SMS remarketing campaign – nominated alongside Starbucks, Jaguar and Mondelez.