The media landscape in Australia has always been characterised by a concentration of ownership.
Fairfax and News Corporation still control over 80% of the country's print media, and have long been the dominant voices setting the news agenda, even if no longer from a rolled up paper delivered to the doorstep.
Another defining characteristic of the Australian market is its size. With less than 23 million sets of eyeballs to target, audience size limits the scalability of media titles and advertising reach.
A lack of competition in the market has allowed legacy media to be slow to adapt to the digital space. Even though print advertising's demise has been evident for years, most Australian publishers are still evolving profitable digital strategies.
In the larger market of the US, by comparison, a host of pure-play digital titles have sprung up, pushing digital publishing strategies forward. These new media players are outstripping legacy media in the digital realm, dominating the list of top news websites. The same trend has only just started to materialise in Australia, but legacy media still account for most of the top news sites.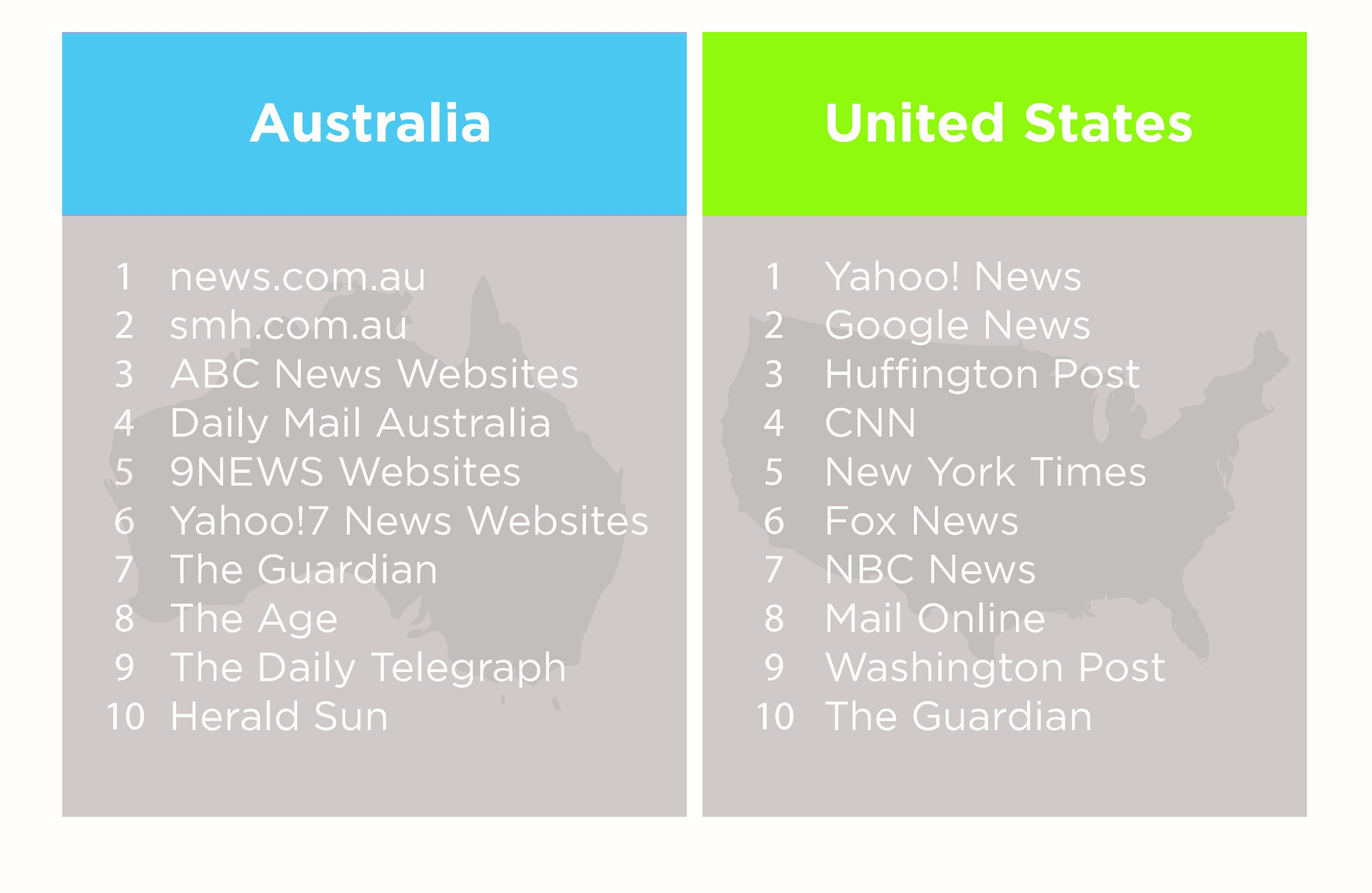 Source: Australia: Nielsen Online Ratings, Jan 2015. US: eBizMBA Rank, March 2015.
These market dynamics leave the balance of power in the publisher's favour, especially in the video ad market. Supply is short – advertisers have few alternatives and little leverage when it comes to CPMs and buying preferences.
In the US on the other hand, advertisers can move their resources across multiple supply sources, forcing publishers to provide inventory or lose out to someone else.
But times are changing. Digital 'natives' are starting to gain traction. BuzzFeed, The Daily Mail and Mashable have launched local editorial teams. Local players like ninemsn and Mamamia are making their mark. And the Huffington Post and Microsoft have announced plans to launch locally.
Video supply is starting to grow. Bauer, ACP, and the big print publishers are starting to recognise the revenue video can yield and adjusting accordingly, sparking an overall lift in supply to the market.
Pressure is building from the buy side, with agencies moving budget to programmatic buys, and big global trading desks putting strategies in place to move to programmatic models.
Publishers utilising programmatic will start to take budget away from the traditional powerhouses unless they move with the times.
The publisher may still have the balance of power in Australia, but not for long. As supply increases across the board, and new publishers come into market, the balance will shift. Those with a video first, and programmatic first, approach will become the new power brokers of the media landscape.
Written by Daniel Rowlands, Director of Supply APAC, SpotXchange