Some months back, IAB Australia sponsored the opening breakfast at Brainmate's Product Camp, part of Vivid Sydney. Vivid is an amazing festival of light, music and ideas (you may've seen the Opera House lit up in lights?) and Product Camp fell squarely into the ideas arena. Product Camp was about experiences, learnings and ideas for best practice development for apps, startups, websites, games and other digital products.
The unconference took place at the uber cool Atlassian offices at Martin Place with product managers, product marketers, tech developers, project managers, business entrepreneurs and established businesses attending. As per unconference protocol, the day's agenda was voted in by participants – a fun and effective way to ensure content is relevant to the audience.
I attended sessions on managing change, client collaboration and privacy and it was fascinating to discuss how particular challenges were met and overcome. There was a lot of positive energy and excitement as we contributed to discussion, moved between sessions and heard incredible stories. It showcased a really interesting bunch of people achieving really good things – and my key takeaway was the spirit of collaboration and a willingness to share and grow knowledge. It certainly was a fun, instructive and memorable day – cudos to Brainmates, Vivid and Atlassian for making it happen!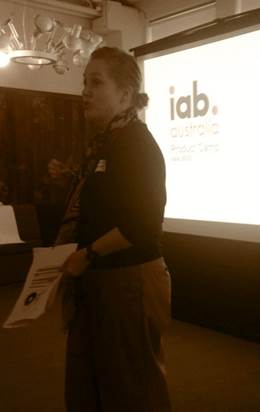 IAB's very own Samatha Yorke presenting at Product Camp
P.S. Further to Atlassian's funky office – there were fab light fittings, a commercial kitchen, spacious tiled hallways (very Arts & Craft movement) and large spaces for presenting, workshopping and chilling out – all ideal for this Festival of Ideas event.